The Swedish National Maritime and Transport Museums manage and develop the Marine Museum in Karlskrona, the Maritime Museum, the Vasa Museum, the Museum of Wrecks in Stockholm and the Railway Museum in Gävle.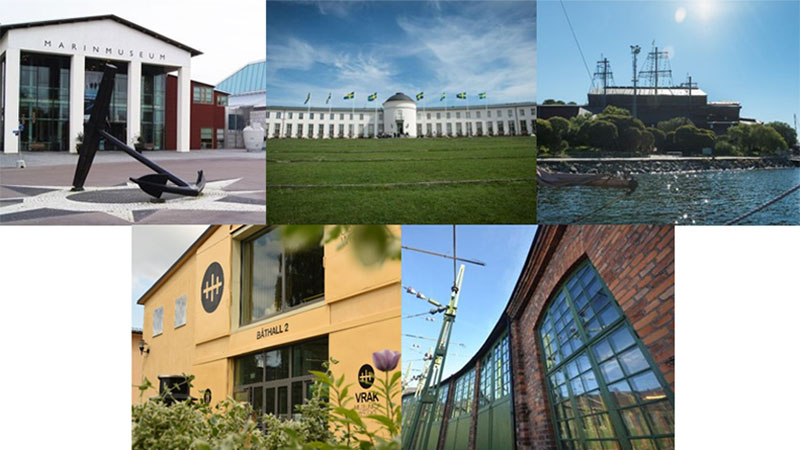 The Naval Museum
The Naval Museum relates the history of the Swedish naval forces – recalling the battles of galleons when Sweden was a great power, the events of the cold war and today. The museum lies on Stumholmen in Karlskrona and stretches out into the water in the centre of this naval town. The quayside is full of museum ships and boats to examine – from 19th century sailing boats (bark) to minesweepers, torpedo boats and the full-rigger Jarramas. Smaller boats are on view in the 18th century launching shed.
The Naval Museum (external link)
The Maritime Museum
In the Maritime Museum in Stockholm, the whole family can explore man's thousand-year old history of life at sea. Past meets present in exhibitions that focus on e.g. merchant shipping, marine archaeology and the Baltic Sea. The museum is also responsible for cultural care of the maritime area by listing culturally important vessels and granting subsidies towards the maintenance of those that are historically valuable.
The Maritime Museum (external link)
The Vasa Museum
The Vasa Museum in Stockholm is one of Scandinavia's most visited museums. It is here that you will find in all its glory, the unique and well preserved man-of-war Vasa from 1628, embellished with hundreds of wooden sculptures. Over a million visitors every year enjoy the exhibitions in the museum, which describe the people on board and life at the time; how, after 333 years at the bottom of Stockholm bay, the ship was rediscovered and salvaged; and the research which is now underway to preserve Vasa.
The Vasa Museum (external link)
Vrak – Museum of Wrecks
Vrak - Museum of Wrecks exposes our often forgotten cultural heritage at the bottom of the Baltic Sea. With wrecks and other discoveries as our point of departure, we tell the stories of people who have depended on the sea for their livelihoods, used it as a sea route, a battlefield – and a graveyard. The unknown world of the Baltic Sea is brought to life in exhibitions and on the museum's website.
Vrak - Museum of Wrecks (external link)
The Railway Museum
The Railway Museum in Gävle tells the history of the Swedish railway. The museum is currently closed for renovation. The re-opening is planned for spring 2024. The Railway Museums collection is of international top class and consists of over 300 vehicles from the mid-1800s to the present day and includes Prins August, which is the world's oldest operable locomotive. The collection also contains objects and an extensive image library. The museum also conducts research and restorations using authentic methods of the day to preserve and maintain vehicles of cultural-historical value.